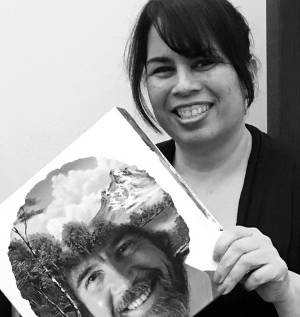 You have questions?  We have answers...
More specifically, Professor Jasmine Delgado has the answers.  Course substitutions?  Check. Academic planning?  Check. Tips about the best classes to take?  Well, we think they're all good...
The Art Program is pleased to announce that this year's advisor will be Professor Delgado.  No need to get confused -- we swap faculty advisors every year, and those of you who met with Professor King last year will get the same great insights.  We want to make sure that you have your schedule situated and that you will be ready to graduate, and Professor Delgado can help.  Feel free to drop by her office hours on Mondays from 12:30 to 3 PM and Thursdays from 2 to 4:30 PM in Madera 1614, where you can talk about art, classes, prerequites, or even your favorite episode of the Joy of Painting.
You can check out Jasmine's work.
Also, you can contact her via email.