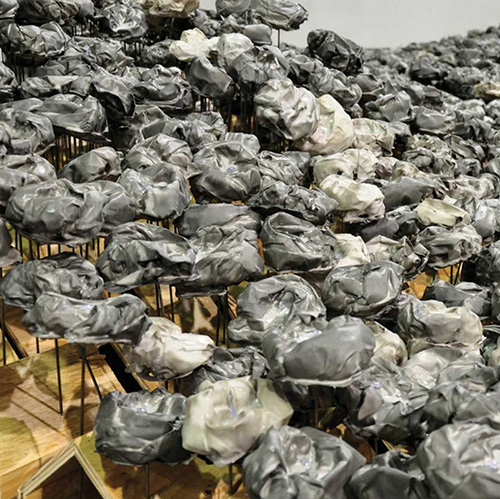 Not only are the faculty members in the Art Program excellent instructors, they are all practicing artists.  Extending through November 4, 2018, Assistant Professor Marianne McGrath's installation of ceramic work will be featured at the Santa Paula Art Museum (SPAM).
The exhibition Local Clay pairs two of Ventura County's most unconventional female sculptors, Marianne McGrath and Cheryl Ann Thomas. Both women are local artists working predominantly in clay, but in very distinct ways. McGrath juxtaposes the earthen medium of clay with industrial materials like reclaimed wood to create works that speak of rural landscapes lost to suburban sprawl. Thomas, who began her ceramic practice at age 60 in her garage with a small kiln, embraces the nature of accident and allows her clay to collapse and create chance forms during firing. 
McGrath and Thomas chose individual sub-themes for their respective artworks featured in this show. This exhibit is important to Marianne because it is the first time that she is showing her work in her home county after nearly 20 years away. The majority of her art has always been about home. Cheryl thought that this would be the perfect opportunity to look back in retrospect at the evolution of her work over the past 30 years and to gather together the people and collectors who have supported her along the way. Ultimately, both women are considering concepts of home, memory, and loss. Local Clay is on view through November 4, 2018.